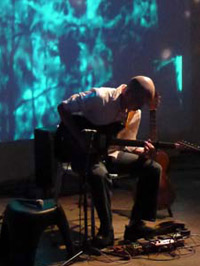 photo by Mangetsu Shinpoudou 2012
---
Tatsuhiko was born in 1966, Japan, started playing the guitar and multi-recordings since 14 years old. Besides he was majoring the paintings in university, had joined several bands and composed solo works with a cassette MTR. In 1996, released his first solo 7-inch vinyl "Bonjour" from a label: M.O.O.D/donut. After that, in parallel of presenting solo works for compilations of the Techno/electronika label such as Transonic or Daisy World, had supported the GPP, Pacific 231 and other projects as a guitarist. In 2000, he released the soundtrack "In the Wake of Dosin,the GIANT" for Nintendo game software "Doshin the Giant I".Released first full-album "Genny Haniver" from Alec Empire's label Geist under the DHR in 2001.
In 2004, he takes charge of music work of "the advance guard fashion show of Yayoi Kusama" of a contemporary art artist's Yayoi Kusama. In 2005,he participates in the remix album "The Good Son VS The Only Daughter/The Blemish Remix" of David Sylvian.
He released 2nd album "Spacewatch" from AKICHI RECORDS in 2008. He is mainly performing live activity in Tokyo now.
---